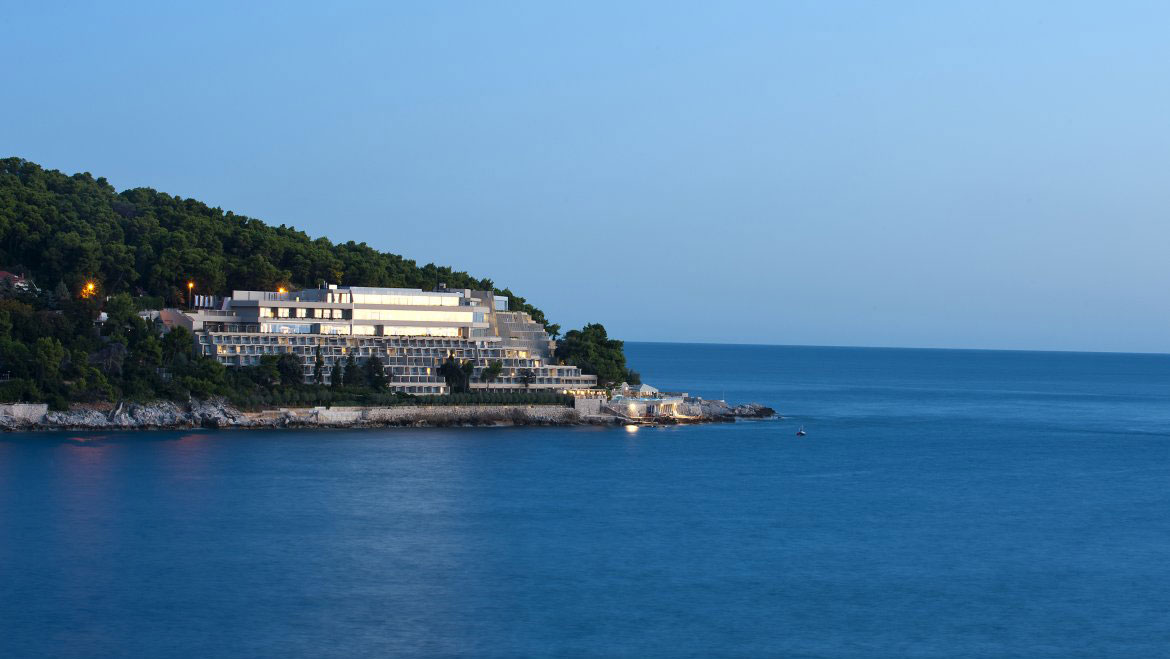 Hotel Dubrovnik Palace
Masarykov put 20, 20000, Dubrovnik, Croatia
+385 20 300 300
The conference will be held at the newly renovated Hotel Dubrovnik Palace featuring wellness and spa centre, high-tech conference rooms, superb gastronomy and spectacular sea views from every room.
Located at a short distance from the Dubrovnik Old Town, the hotel resides on the beautiful peninsula of Lapad, below the Petka woods, and enjoys spectacular views to the Elafite islands. The hotel blends harmoniously with its location, incorporating carefully selected wood and natural stone.
Please reserve your room at the conference Hotel on time!
For all International p53/p63/p73 Isoforms Workshop participants accommodation is secured at the hotel Dubrovnik Palace at a special rate until October 1st 2019 only.
86 € 1/1 per night including breakfast
106 € 2/2 per night including breakfast.
How to Book the Accommodation
Click on BOOK YOUR STAY (on the top right corner of the page)
Insert the Arrival and Departure dates (November 3-6, 2019)
Insert Promo code: ISOFORMS2019 and click BOOK YOUR STAY
Choose your hotel: Hotel Dubrovnik Palace (first one listed)
Click on: VIEW ALL ROOMS
Select one of the offered rooms
Finalize your stay
In case you need any additional assistance, please contact Tomislav Vuksanovic tomislav.vuksanovic@alh.hr
Each room comes with high-tech audiovisual equipment, Free high-speed, wireless Internet and an abundance of natural daylight.
Getting to Dubrovnik
Dubrovnik is excellently accessible by all means of transportation.
For example, Dubrovnik Airport is located approximately 15.5 km (9.5 mi) from the Dubrovnik city centre which is easy reachable by public transportation or taxi. The airport provides direct flight connections with over 50 European 'hubs' including Paris, London, Frankfurt, Berlin, Tel Aviv, etc.
Dubrovnik is also an international port with regular ferry lines to a number of towns in Italy and Croatia. Finally, the conference site can be reached by car (motorways through the entire Croatia), and busses which connect Dubrovnik with most European towns.
How to get from Dubrovnik airport to Hotel Palace?
Airport shuttle bus leaves about 30 minutes after every flight.
Bus stops in Dubrovnik- Old town, and Main bus station in Gruž
Where to purchase a ticket for the shuttle bus?
1. Platanus travel agency counter - after you exit baggage claim area, you will find it on the right- hand side.
2. Platanus ticket dispenser
3. Platanus bus driver
4. Online - ticket can be purchased at the link http://www.platanus.hr/shuttle-bus.html
How to get from Dubrovnik-Old Town to hotel Palace by bus?
The airport shuttle will stop first in Dubrovnik-Old Town (Ploče Gates). If you decide to go from there to the hotel Palace you will need to reach Pile gates, which are on the other side of the Old Town so you will need to take a beautiful 10-minutes' walk through the Old Tow to reach Pile Gates.
From Pile Gates take Libertas Bus No 4. Tickets can be purchased at many different locations, from newspaper kiosks, Libertas vending points on major bus stops, at places like the Dubrovnik Travel Corner and inside busses.
How to get from the main Bus station in Gruž to hotel Palace?
The airport shuttle bus will make a final stop at the Main bus station in Gruž. From there you can take taxi or uber to reach the Palace hotel.